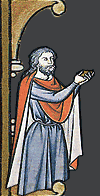 Welcome to the SCA Online Demo



The Society for Creative Anachronism is an international, non-profit, educational society celebrating pre-17th century history. It has members who study every aspect of medieval life. We are brewers, archers, calligraphers, heralds, fencers, spinners, blacksmiths, costumers, dancers, cooks and armoured fighters. We enjoy feasting, spinning, needlepoint, equestrian, leatherwork, beadwork, socializing, live weapons competition, period music, theatre and much more. If someone did it back then, you can bet someone is trying to do it now.

The goal is to learn through doing. Doing and sharing ones subject knowledge with others. The SCA encourages historical research and recreation, and most importantly: preserving a code of conduct, mentality and philosophy that, in many ways, is lacking in the modern world.


This Online Demo is meant to give a general overview of some of the aspects of the SCA. More information and links to groups in your area can be found on the Links page.




DISCLAIMER: This is not an official publication of the Society for Creative Anachronism (SCA). All of the information on this site has been submitted by members of the SCA, the source, or collected from Official SCA sites. All works are copyright their respective authors/creators unless noted otherwise. Only you can prevent forest fires. This product contains nuts and caffeine.










Web hosting by http://www.hostgatordiscounts.org